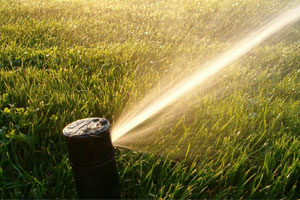 It is impossible to water on a consistent basis without a sprinkler system.
---
By missing one or more watering schedules per week or not having one at all, your lawn and plants will suffer. Our fully automatic sprinkler systems will ensure that you don't miss your watering times. Your lawn and plants will have the water they need and at the times they need it, to make it through our hot Texas summers.
---
Our sprinkler systems are built to last. We stand behind all our work and use Rain Bird and Hunter materials. No Job is too small or too large and we specialize in Residential and Commercial installation and repair. If you have an older sprinkler system that is in need of service don't hesitate to call, we can inspect it and make all necessary repairs. If you're looking for a contractor that you can trust and one that will be around for you in the future then give us a call.
Conserving water has never been more important. We can install a sprinkler system that will give you full control of the water usage. Shaded areas can be watered less than full sun areas and beds can be watered at different times than turf areas. By dividing your property into different zones we can achieve maximum efficiency.
Hose end sprinklers do not apply the water evenly and are too easy to forget about and leave running all night. Most areas remain under water restrictions and are only allowed to water certain days and times. We can install a fully automatic sprinkler systems that will allow you to meet all of the city requirements.
We will set your sprinkler system to water during the night or early morning hours to allow for less evaporation.
---
Call Best of Texas Irrigation at (512) 260-1430 today to get a free quote.
We also offer a discount for installing with a full landscape lighting system.